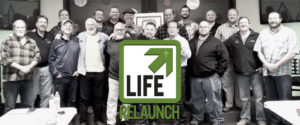 The next Men's
LIFE RELAUNCH
event will be held on Saturday and Sunday,
January 21 & 22
in Conway, Arkansas @ Faith Church, 1203 N. Museum Road.
It will
begin on Saturday at 9:00 am
.
*REGISTER BELOW
*There are currently no spots left for registration. If you register, you will be placed on the 'first-to-call' list and be notified if a space becomes available.
We seek to restore passion and purpose to men. We are at a critical time in America's history. Men are influencers, for either good or bad, righteousness or unrighteousness. We need bored men to become bold men.The Life Relaunch Experience is equally effective for various groups including men in churches, men's groups, first responders, athletes, men in correctional institutions and in rehab programs. The Life Relaunch Curriculum works with every people group in the community.
How Life Relaunch Works
The Life Relaunch Experience is a two-day facilitated program which utilizes a curriculum that is designed to enable participants to better understand how their past has shaped their present and will determine their future.
Why Life Relaunch Works
Along their journey, men encounter spiritual heart wounds and soul injuries–often occurring early in life–from what they see and experience in life, affecting one's identity. These experiences can result in crippling emotions like rejection, fear, guilt and shame, leading to addictions or other destructive behavior.
Jesus desires to bring healing to men in all stages and times of life. He brings healing to those who are spiritually wounded, those in times of transition, and those seeking new direction and purpose in life. Through the Life Relaunch Experience, men encounter Jesus in a personal and powerful way as He heals and restores wounded hearts. As a result, men are able to walk in greater freedom in their journey toward an abundant life. Life Relaunch works because Jesus is introduced in power and authority through the lives of restored men.
Life Relaunch will work for you.
Join with other men who not only are walking in greater freedom but have also discovered their purpose and calling in life. Register today. This will be a life changing Experience.